Alu-tec offering new folding door handles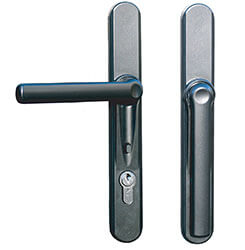 The Clearline SecuriFold door handle from greenteQ has been designed to allow the lever of the handle to fold down vertically when not in use, locating snugly against the backplate.
These handles can be used on any door, but particularly bi-folding doors.
When operating the door, the user simply pushes the lever in at the top to allow them to move it from the vertical inactive to the horizontal active position.
These new handles are neat and tidy, the lever hidden away so it cannot be seen through the glass when the doors are closed
The Clearline SecuriFold Handles are available in White, Anthracite Grey, Black, Satin and Polished Chrome.